Blood Moon Tetrad – God's Sign of the Times?
Every once in awhile, if we are fortunate, we get to see a lunar eclipse. These beautiful occurrences happen whenever the Earth's shadow blocks the sun's light, which otherwise reflects off the moon. There are three types of lunar eclipses: partial, penumbral and total. A total lunar eclipse is the most rare to occur as the sun, moon and Earth must be perfectly lined up at a time when the moon is also full. At the peak of this particular eclipse the moon will appear blood red, making it the most breathtaking as well. Though on average there are 1.5 occurrences per year (some years up to 3 total eclipses can happen) you also have to be in the right place and hope there is no cloud cover. For the sake of this writing, there is a particular incidence of these blood red moons that make them even rarer.
Our sovereign Creator and Sustainer has predetermined these blood red moons to indicate critical and important times in history; specifically, the "blood moon tetrad." First of all, we know that God outlined his Holy Feast days for the Jewish people in Leviticus 23. These Jewish Feasts were not created by man but by the God of Israel. A blood moon tetrad (BMT) is when 4 consecutive total lunar eclipses occur on a Holy Feast day. There have been 7 BMTs since Jesus Christ's first coming. What makes this even rarer is the fact that every single BMT has brought a significant event to the Jewish people within a year of the first or last eclipse of the tetrad. In the most recently noted BMTs we saw: 1949-1950 (1948 Israel becomes a state again, with the Israeli war armistice in 1949), and 1967-1968 (Jerusalem captured by Israel in 1967 as the result of the 6-day war). Of course, these were extremely important events related to Biblical prophecy and eschatology.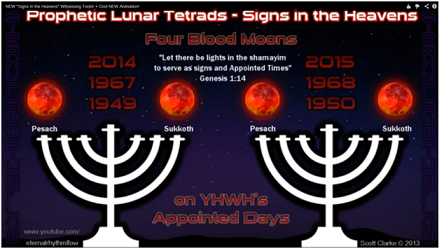 The next BMT occurs on Passover April 15, 2014, Tabernacles Oct. 8, 2014, Passover April 4, 2015 and Tabernacles Sep. 28, 2015. As well, there will be a total solar eclipse on March 20, 2015 the day of Jewish New Year and a partial solar eclipse on Sep. 13, 2015 on the Feast of Trumpets. Including Comet ISON's perihelion on the 1st day of Hannukah, we have 7 "signs in the sun, moon and stars" falling on Jewish Holidays within a 2 year period. I think God is trying to show us something! "And God said, 'Let there be lights in the expanse of the heavens to separate the day from the night. And let them be for signs and for seasons, and for days and years…(Gen. 1:14)." Knowing how our God has used these tetrads throughout history to mark important events, it would only be wise to assume the same in the coming years. But what could we be looking for?
Interestingly, there were
19
years between the first eclipse of '49-'50 tetrad and the last of the '67-'68 tetrad, and
48
years between the '67-'68 and '14-'15 tetrad, and of course Israel became a nation again in
1948
. It is commonly accepted that Israel becoming a nation again would mark the final generation that Jesus said "…shall not pass until all these things [end time prophetic events] have happened," before his second coming. Some do not believe that Israel becoming a nation again in 1948 was a work
by God (if you hold to this,
make sure you study through, because
saying something that is clearly the work of God is
not is
blasphemy
). B
ecause the House of Israel
is
still in denial of Jesus as the Christ they have not been
restored
to God's fellowship, but just because "pagan-Zionists/the Synagogue of Satan" are pushing for the control of Jerusalem and the Temple Mount does not mean that God is not using this time to fulfill his eschatological plan
for judgment, and ultimately to bring salvation back to his chosen people. Remember, God allows everything to happen according to His sovereign purpose;
God will fully restore his children to Zio
n
, the world will know they are his chosen
(the common view of replacement theology is a lie).
One day they will mourn and say, "Blessed is he who comes in the name of the LORD (Matt 23:39)."
I would like to make the logical assumption that this BMT will mark the rebuilding of the temple that the Jews have been so longing for. 1948 Israel is born again; 1967 Jerusalem is controlled; and possibly here soon, the Temple Mount will be controlled. As we know by Daniel's prophecy given by angel Gabriel, and Jesus' confirmation of that future event, a covenant "with many" will be made for a "final week (7 years)" in which a temple will be built (Rev. 11:1-3) so that the Jews may resume sacrifices and offerings at the altar (they believe that they currently have no "atonement for sins" without the temple - though of course in their rejection of Jesus as the Christ, they do not have atonement regardless). Of course, half way through this time, the Antichrist will place the "abomination of desolation," the image of the Beast at the "wing of the temple (holy place)" and declare himself as God (Dan. 9:27, Mt. 24:15, 2 Thess 2:4). Now Jesus also prophesied that the existing temple during the time of his first coming would be brought to ruins, every stone, and so it was in 70AD by the Roman General Titus under the rule of Nero. The Western Wall, however, was never brought down, it still remains and therefore there is a total fullfilment still to come (Jesus often spoke in partial fulfilments of prophecy; i.e. Luke 4:16-22 Jesus only spoke half of Isaiah 61:2 before rolling up the text, indicating future fulfillment of the later half of v2 – "…the day of vengeance of our God"). So, for this end time prophecy to occur before Jesus' second coming, we need a temple!
Currently, the Arabs control the Temple Mount and have the Dome of the Rock, built in 691AD, sitting at the "Holy of holies." So in order for this temple to be built, this thing is going to have to be brought to ruins, or a covenant is going to have to be made with the Arabs to build next to the dome. Seeing where we stand today, both are possible, but what seems more likely according to Scripture is the covenant for a temple adjacent to the dome. In Rev. 11:1-2, John prophesied to "not measure [the outer court], because it has been given to the Gentiles," and many Messianic Jews (Jews who have accepted Christ as Messiah and kept to their "Hebrew Roots") have come to the conclusion that this is referring to the location of the Dome of the Rock. Acts 17:24 tells us, "God…does not live in temples built by human hands," and the only throne Satan will be allowed to reign on is one built by human hands, in a temple that God will not honor. However, I still feel it is possible the Dome of the Rock will be destroyed.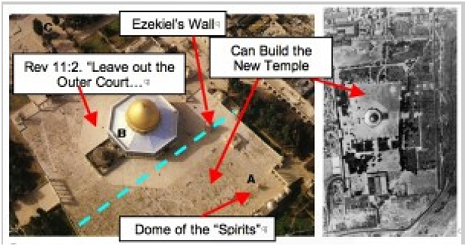 Astoundingly, under the Temple Institute, the Jewish community has built all of the furnishings required for the temple, there are many candidates for the required "spotless red heifer" they must sacrifice before the "honored sacrifices" can begin at the altar, and while it has not been revealed to the public, the "word" is that a select few Jews have the discovered Ark of the Covenant in their possession. There are so many discussions on the table that would allow for this covenant, specifically,Shimon Peres the 89 year old President of Israel is in desperation for a covenant between "Palestine" and Israel, which would result in the allowance by the Arabs of a temple being built. All of this by Peres' "courting" of the Vatican, a possible bible-type of "Ahab courting Jezebel" in 1 Kings 21. Interestly, after this happened in 1 Kings 21, Elijah came on the seen…is it possible that this is a Bible-type of Elijah and the other witness of Rev. 11 (who I believe is Moses) showing up after a covenant signing? Please follow Messianic Rabbi Steven DeNoon for more on this...
(Section updated 8/5/13) - Last week, (7/28 – 8/2), it officially became know to the public that "peace talks" to divide Israel and create a "Palestinian" state began. Interestingly, the planned timeline for these talks to conclude would be "nine months." Why nine? Why not a year, or half a year? This brings many Scriptures to mind having to do with "labor pains/birth pains (Jer. 30:6, Ho. 13:13, Mt. 24:8, 1 Thess. 5:1-3)." As well, because this nine month plan was actually put on the table at least a couple weeks before the official announcement, we see this timeline coming to an end roughly around the time of the first blood moon of the tetrad, which occurs on Passover, April 15, 2014.
(Section updated 10/24/13) …You must know that by the very nature of the Pope of papal-Rome, simply a transition from pagan-Rome, that he is an "antichrist" himself. When Satan realized he could not physically wipe out the Christians through the Roman Empire in the early centuries of the Christian church, he created a deceptive, seemingly good, false gospel to put the "catechized" follower under a man-centered system of sacraments, idolatry and deep paganism, because he knew he could destroy more lives this way. The Roman Catholic church and its' catechism are not Biblical Christianity. Even still – since the brutal Catholic Inquistions in which the Jesuit Order, exo and esoteric military order of the Church of Rome, sought out and killed Bible-believing Christians who refused to surrender to the authority of the papacy – the Church of Rome, or more appropriately as the wolf in sheep's clothing is being revealed more and more today, Revived Roman Empire is seeking to put and even believes the entire world will one day be under their authority. As well, it is becoming more and more clear by the ecumenical words and actions of the first Jesuit Pope Francis that he is conditioning the world to accept a global leader who represents a single world faith. Just as pagan Rome destroyed the Temple in 70AD, papal Rome wants to control the Temple Mount in order to "ride the Beast" of Rev. 13. But they are not the only ones who want to control the temple mount. As we are seeing in preparations today among the Luciferian societies controlling the EU, UN, Saudi Royals, Muslim Brotherhood, British Crown, etc., the Final Kingdom of the Beast spoken of in Dan. 2 & 7 and Rev. 13 & 17 (beast out of the sea) is here and simply waiting to "rise out of the ashes" of perilous times ahead to control the world. "Ordo Ab Chao/Order out of Chaos" is the Luciferian globalist's motto. The symbolism - new tree of life/beginning of new order, "messiah" birthing ritual in the midst of a giant spell-casting witch, and most important the "Phoenix rising out of the ashes"…to name a few - of all this was completely thrown in our faces at the ceremonies of the London 2012 Olympics, or "the 2012 ZION/New World Order Olympics (do a little research on it)," as well has been portrayed throughout the European Union with their Gen. 11 Tower of Babel-type ("Many Tongues, One Voice" as mocked in their advert for the building) Parliament building complete with a "woman riding a beast" out front, their "10 divided regions (Dan. 7:24, Rev. 13:1)" and vacant council seat #666 in anticipation of a "great leader." These are just a couple examples of the countless societies and/or civilizations who spoke of and have been preparing for this "day" we live in where their "god/savior" would be incarnated on the earth and bring the entire world together.
Added 10/26/13 Preparing For the Phoenix Rising – Part 1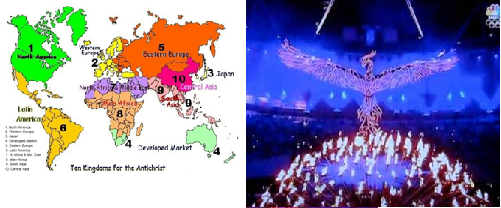 (Section updated 10/24/13) We cannot say for sure who the Beast will be, there will be many claiming to be Messiah in the early part of the great tribulation. It is important to keep an open mind and awareness to the Muslim Brotherhood, rapidly rising to establish the "Revived Ottoman Empire," with its' caliphate…home to the 12th Imam, Mahdi (though debatable, a 17th century Hadith Shiite-prophecy claims before the Mahdi arrives a "tall black man" will rise to govern the West, who will later assist the Mahdi in converting the world to Islam) one of the many false-Christ's we will see in the very near future that Jesus warned us about in Matthew 24:4-5, among but not limited to: the Vatican's "Alien Savior," Zohar prophecy of the Jewish Mashiac, the Theosophical Society's (New Age) Jesus Sananda, Buddha's Maitreya , the Hopi Indian's Pahana, Aztec' Quetzalcoatl, Inca's Viracocha, Lucis Trust's UN seat #666 "Great World Leader (Maitreya)," Mayan Kukulkan, Cherokee's "Pale One," the British Crown's false "Davidic bloodline" Messiah, Freemason's Great Architect Apollyon/Osiris/Nimrod (pictured on the U.S./New Egypt/New Atlantis Great Seal as the All Seeing Eye of Horus)...going to be a lot of characters claiming to be the Christ; and as we know one will ultimately stand up, the Beast, causing all to worship him and take his mark, 666, or face death (Rev. 13:1-18). Please watch this thorough bible study Pastor Mike Hoggard began 8/18/13 called "The Fourth Kingdom" on the Beast kingdom of the great tribulation. Daniel is clearly showing us that this final kingdom is going to be unlike any of us have ever seen. I cannot help but believe that the final kingdom will be something very demonic of angelic nature (even falsely perceived as an "alien" invasion), remember in Rev 12 that Satan is cast to earth bringing 1/3 of the fallen angels with him. Though I as a Christian perceive this kingdom in a demonic, horrifying way, the story will be different for those who rejected Jesus Christ, as Scripture is clear that "with all deceivableness of unrighteousness in them that perish; because they received not the love of the truth, that they might be saved. And for this cause God shall send them strong delusion, that they should believe a lie:" and they also "will wonder after the Beast." 2 Cor 11 even tells us that Satan masquerades as an angel of light, deceiving with beauty and awe.
(Section updated 10/28/13, several links to support) Do not be fooled, the World War coming that is beginning in the Middle East (Syria being the tipping point) and ongoing fulfillment of the Isaiah 17 prophecy – Damascus becoming a ruinous heap – and progress of Is 19 in Egypt, the US at war by proxy with Russia (in Syria) on behalf of the Saudi Royals and British Crown, the US at war with China by proxy, the imminent military conflict between Israel-Iran and Israel-Syria; the US Constitution being burned up, the NSA's Prism surveillance network, Agenda 21, the US being purposely divided in countless critical categories (race, sexual orientation, distribution of wealth); the orchestrated worldwide economic collapse in progress (that is mathematically past the precipice [Mt 24:7, Rev 6:5-6]); Islam's current urgency and imminent calling to "bring in the 12th Imam/Mahdi" (by creating worldwide death, persecution and chaos as according to their eschatology in the Hadith); the trans-humanism, human genetic manipulation and war for our DNA (Gen 3:15 & 6, Mt 24:37); the growing acceptance to the modern day "sacrifices to the altar of Molech (Lev. 18:21)" through abortion and the use of aborted fetal tissue in our food (Lk 17:28); the rapid degradation and changing of our climate (Mt 24:7-8 Jer 30:6-7, Is 24:1); the increasing anti-Semitism and persecution of Christianity, escalation of scoffing (2 Pet 3:1-3, Lk 17:26-27); the relative silence in the churches on all of these critical issues (2 Tim 4:3); the growing war against morality, and judgment of being given to a "depraved mind (Rom 1:18-32, 2 Tim 3:1-3, Jd 5-8)" through the destruction of sacred family and marriage, increase of "sin being called good" including the entertainment industry and public education system's programming for us to seek hedonism and self-deification with the indoctrination of immorality, materialism and universalism (2 Tim 3, Is 5:20, Amos 5:7); ; the growing prevalence of heretical doctrines and perversion of the gospel in Christianity (1 Tim 4:1, 2 Tim 4:3, Jd 1-4); the Jesuit Pope working to unite religion (Rev 13), the many nations calling for "peace and security' (1 Thess 5:3); the increasing "exodus" of Messianic Jews from "New Egypt (America/New Atlantis)" to Israel, Jerusalem being an end-time prophesied "cup of trembling" with the world's drunken desire to divide Israel (Zech 12:2, Ps 83, Ez. 38, Joel 3); all appear to be the 'birthing' process of the Antichrist and his kingdom coming to power.
(Section updated 9/22/13) Can't forget to mention the relatively newly discovered Great Comet ISON making it's closest approach to the sun around late Nov. this year (Nov. 28 closest approach to the Sun, on the 1st day of Chanukah (Hannukah), another significant "sign in the heavens" falling on a Jewish holiday). There is already enormous fervor to the Hopi prophecy of the Blue Kachina with this comet (a prophecy given by a fallen angel to lead people to worship their "messiah" the Pahana, we know as the Antichrist)! ISON will bring a once in a lifetime, breathtaking naked-eye view. Current simulation shows us that around sunset ISON will be brighter than a full moon with it's tail sweeping across a third of the sky. This cosmic beauty will bring much danger with it as well. As it has gotten closer, we have been baffled by observation that ISON is bigger, brighter and more electrically charged than thought. It even put an electrically charged "coma" on Mars during its' close pass (of course all of this hidden or disinformed by NASA). Because of its' breakup during its' approach to the sun, there will be a massive debris tail, which current projection puts Earth to pass through in late Dec. 2013 to early 2014. We are already seeing a MAJOR increase in fireballs. This brings the threat of serious meteor showers, possibly many that could pelt the Earth. As with any sun-diving comet, and being as big as it is, there is also a very real threat that ISON will agitate many sun spots and cause major solar flares and filament eruptions (as we have been very clearly seeing increase since it has passed Mars and continues to descend toward the Sun 10/1-24/13), releasing unprecedented Coronal Mass Ejections that if aimed at Earth, have the ability to fry our electric grid. All this complicated by the fact that we are in a "solar maximum" where magnetic-mixing sunspots occur at the equator rather than the poles, and because we have not been getting the flares we need to inflate our atmosphere, the magnetosphere is extremely compressed (with holes in the ionosphere), therefore "the shields are down." Please follow the link below for the complete, imminent threat of ISON and LoveJoy.
It is important to note, we do not know that the final "week" is ahead. When you consider the perilous times we are living in though, where it seems as though every single "in the last days…" prophecy is on the table, in process or has been fulfilled, and that every aspect of those prophecies is in exponential increase, or as Paul put, "as in the pains of labor," we must be seeking meekness and righteousness, as Zephaniah told is in Ch. 2:1-3, we "may be hid from the day of the Lord's anger." The final 7 years is a time of distress like never before; judgment and wrath for a sinful, unbelieving mankind, but most importantly a time for God to turn his attention from the Church/Body/Bride of Christ back to his Chosen people in bringing them to the acceptance of Jesus as the Christ!
____________________________________________________________
If you do not know Jesus Christ, please read:
Each one of us is separated from God by the sin we inherit: marred, depraved by the first sin of man against God, bringing no way to merit salvation, righteously deserving of punishment. God came in the flesh, as Jesus Christ the Son of God, and became the perfect once for all, substitionary, atoning sacrifice. Living the lowest life of servitude, beating every temptation we face in this flesh, a perfect, sinless life of submission to God the Father, severely humiliated and persecuted to the point of being rejected by his own people, he was crucified on a cross, receiving the eternal wrath and judgment of God that we deserve, all for the loving purpose to save us. He was raised from the dead on the 3rdday, witnessed by ~500 people as Scriptures say, but more importantly witnessed by the lives of many today who previously rebelled, blasphemed and even cursed God, denied his existence, suddenly called to repentance, the identifying "death and resurrection" of Christ in their own lives, dying to the foundation of sin,resurrecting to the foundation of Jesus Christ.


It is only by God's grace through faith in the complete work of Jesus Christ alone, are we saved: not by our works, sacraments or the tireless, inevitable failure of law-keeping. The Old Testament, the Law, was created to show us our inability to keep God's commandments; it is the power of sin that leads us to repentance. While on Earth, Jesus taught the "gospel of the Kingdom" to show mankind a standard we absolutely cannot attain in this flesh; externally or internally. All of this for the purpose of putting our faith solely in the saving work of Jesus Christ. It has always been by God's grace that man is saved by their faith, not by our works or "keeping the commandments."


If you hear his voice, don't harden your hearts… Today is the day of salvation. Do. Not. Wait.


"If you confess with your mouth 'Jesus is LORD,' and believe in your heart God raised him from the dead, you shall be saved." –Romans 10:9-10


Jesus is Lord & Savior. He lives. He will return. Maranatha. Come soon, Lord Jesus. Love one another selflessly, sacrificially.